Catch up with Shannon!
Shannon Kelly, November 23, 2016
October 30 marked my two-month anniversary of living in Galway, Ireland. This anniversary coincidentally fell on Halloween weekend, meaning I celebrated in a city that takes the holiday seriously—the Irish invented Halloween after all. The highlight was the annual Macnas parade, which is more of a theatrical performance than a parade. Dressed in elaborate light-up costumes and full makeup, choreographed actors, dancers, and musicians lead a procession through the main streets of Galway, each year striving to outdo the last. Now, only a few weeks later, Eyre Square is already full of crêpe stands, chocolatiers, and carnival rides in preparation for the Christmas market.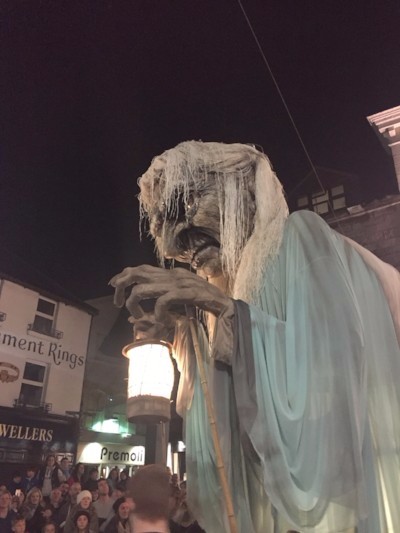 I moved to Ireland to obtain my master's degree in writing at NUI Galway, an adventure made possible by the confidence I gained during my OneTraveler experience. Initially, the thought of packing up and moving abroad was daunting, but after spending six weeks in Romania, Poland, and Hungary this summer, navigating a country where English speakers are abundant feels much easier than I had imagined. In my spare time, I've been able to visit other parts of Ireland too, including Cong, a sleepy village known primarily for being the setting of the John Wayne classic, The Quiet Man, Clifden and its beautiful abandoned Clifden Castle, Cork, Limerick, the rocky Burren of County Clare, and of course I took a cheesy picture by the "You are now entering Ireland's Shannon Country" sign. I'm building upon my knowledge of the Irish literary tradition, and each week I have the opportunity to work with visiting Irish authors who lend advice, discuss the world of publishing in Ireland and the UK, and are glad to grab pints after class to discuss our projects.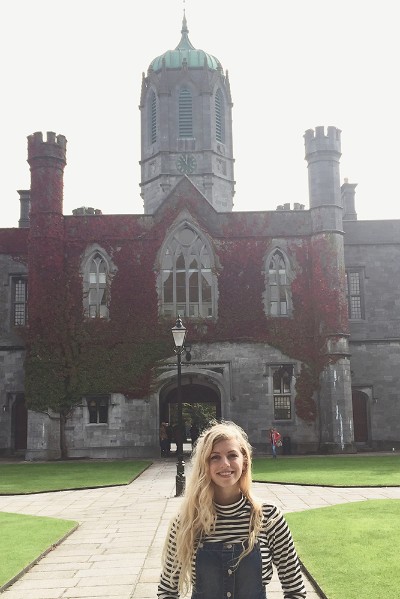 One of my favorite aspects of this year has been working with the Con Tempo String Quartet, a fantastic group of Romanian musicians in residence in Galway who play at Thursday seminars to inspire writing and to discuss the interaction between words and music. This interests me not only as a musician, but as someone who has a vested interest in Romanian culture. In fact, my poetry portfolio this semester has been heavily focused on Romanian history, culture, and landscape; additionally, I wrote a poem earlier this semester based on my time in Cluj, Romania, and was thrilled when it won first place in the Allingham Festival Poetry Competition.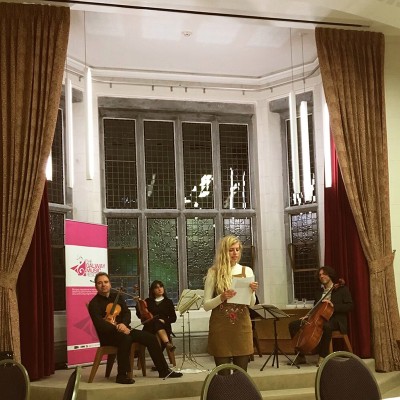 Galway is increasing in its cultural diversity, aided each year by the influx of international students at the university and by an immigrant population largely from Poland, Latvia, and Lithuania. I am currently working at NUI Galway's Academic Writing Centre, and thanks to the city's diversity, I have the opportunity to assist many students from language backgrounds other than English. Additionally, I am taking classes in Russian language and am enjoying using the Cyrillic alphabet. I made a Latvian friend here whose girlfriend was visiting from St. Petersburg, and I had the two of them over for Russian conversation and pierogi I made using the recipe I learned this summer in Krakow. In the spirit of continuing to experience new cultures, I check Ryanair flights frequently, and was lucky enough to find a cheap one to Brussels, Belgium, where I spent last weekend. Between chocolate-covered waffles and frites, I stopped in the Royal Gallery of Fine Arts and the Magritte Museum, as well as the Museum of Musical Instruments and was excited to use the French language again.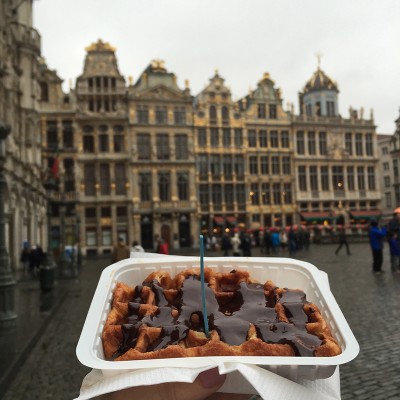 But Irish culture itself has played the biggest role in my transition. The official language of the Republic of Ireland is Irish Gaelic, and each street sign, building plaque, trashcan, even email from the university will be written in Irish first, then English. Several summers ago, I studied introductory Irish Gaelic, so I can at least sound most words out and surmise their meaning, but I think seeing the language around Galway is a beautiful reminder of Ireland's distinct cultural and linguistic heritage. And, thanks to the fact that my house is directly across from the rugby pitch, I can officially cross going to an Irish rugby match off my bucket list!
I am living with three girls this year, one of whom I met when I studied Irish here years ago. We found our other two roommates online, but it has worked out perfectly. We get along very well, and one girl is in my program so we get to read over each other's work and attend class gatherings together. Living with them was a stroke of luck, and I'm thankful for my housemates and my classmates who have helped me acclimate. Our program spends a lot of time outside class together; we recently attended the opening night of Fantastic Beasts and Where to Find Them as a group, and this weekend, our Greek classmate is having us all over to make Palinka, a drink her mother makes and that I happened to try in Hungary this summer.
For me, one of the biggest reasons I applied to OneTraveler and decided to do graduate school abroad was to shake up my perception of the world and my sense of place for the benefit of my writing. In terms of the subject matter and maturity of my work, I've definitely seen the immediate effects. I am so thankful to be surrounded by people and places that inspire me and to have the opportunity to continue traveling, learning, writing, and interacting with fascinating and diverse people.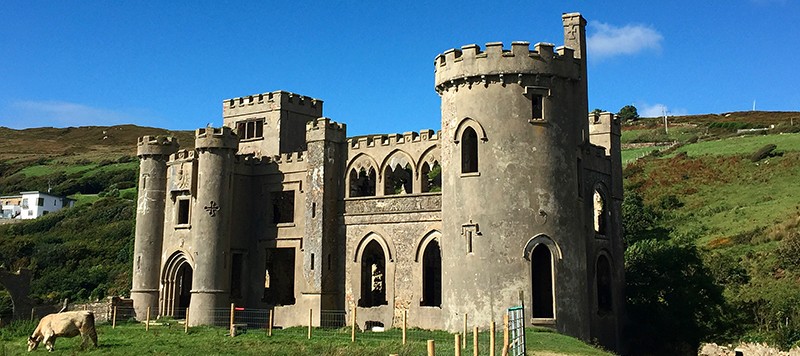 Catch up with Shannon!
Catch up with Shannon!